It is a fun, exciting and yet very stressful time all at once! One thing you can be sure to do for your baby's first birthday is to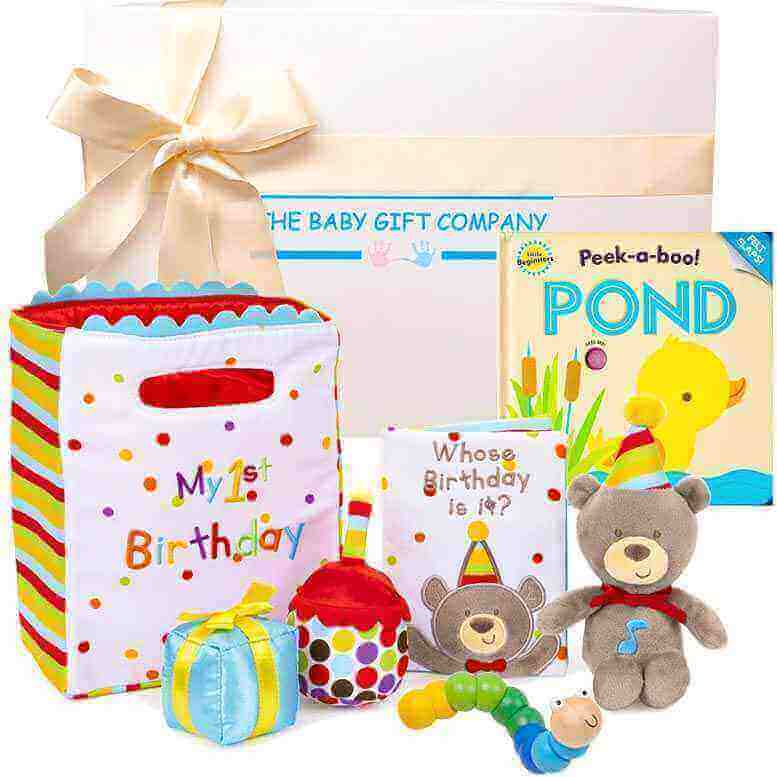 give them a special gift that will be a page right out of their childhood scrapbook. Below are some simple and inexpensive ideas for gifts that you and/or your family can buy. Plus at The Baby Gift Company we offer a beautiful gift wrapping service so you don't even have to worry about wrapping the presents, we can take care of that for you. Leaving you time to bake the cake or plan their first birthday party.
To ease your worries, we have put together everything that you should know about buying gifts for a first birthday.
My First Birthday Baby Gift Box – This gift collection is just so darn cute! Packed full of colourful treats for bub to play with. Something to keep toys in, musical, rattles, squeakers and books. These adorable toys will keep baby's attention whenever mum or dad needs some time to themselves.
Little Learner Baby Gift Box - An important thing to remember: first infants and toddlers often like toys and gifts that imitate something they like or like to play with. You can develop new skills through musical instruments. This gift box includes a fun wooden xylophone, small enough for a toddler to play with.
Footy and Soccer Football Balls -  Sporty baby gifts will help develop coordination and motor skills. Parents can also play games such as football and basketball with their baby, which is a great way to develop hand eye coordination, fine motor skills and strength.
Wooden toys – Fun, safe and timeless gifts. Wooden toys will last years, they often don't need batteries, durable and encourage imaginative play. They are great presents that help parents bond with their infant while providing plenty of playtime fun. Our London bus and push along animal toys make it easy for them to grasp and hold on to, whilst being creative and educational gift ideas.
Meal time gifts - A practical gift idea would be feeding dinnerware sets. It can be difficult to know what kind of gift to get for the new parents, but rest a sure that training cups, bottles, bowls, plates, bibs and cutlery will become very handy. We sell a range of colourful and fun gifts perfect for introducing bub to eating and making dinner time fun. Our Animal Skip Hop Dinnerware Baby Gift Box is a popular gift solution for kids at this age. Suitable for a boy or girl, the vibrant colours and design will keep them distracted.
On his special 1st birthday he can wear a top just for the occasion. We sell First Birthday Cotton Tops ideal for him to wear on his birthday and a beautiful keepsake for the parents.
Some other great infant gift ideas are books. It's important for babies to be reading at an early age so that they can develop language skills at an early stage. We all know how important books are at this age and children love them no matter what.  A good book might be a picture book or an adventure.
Hopefully if you're struggling to find a memorable present for a one year old boy, you might find something useful here.